Fostering a Red Barn Rescue Dog
While Red Barn Rescue is fortunate to have on-site housing for some rescue dogs, having fosters is still so important. Some rescue dogs do not do well in a shelter environment. Some are ill or injured and need a calmer place to recover. Some are too young or too old to be in the elements. And most importantly, our kennel space is limited. So, the more foster homes we have, the more dogs we can save from euthanasia at area shelters. We get requests multiple times a day to save dogs. And we want to help them all, but they need a place to go. We need fosters. We hope you will join our foster community and help us save more dogs.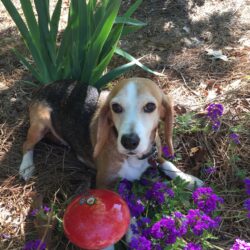 Our Expectations:
Daily Care

Provide daily care including exercise, food, water, socialization, and a clean, safe environment. (Red Barn Rescue can supply food, crate and whatever else you need to foster, upon request.)

Basic Training

Provide age-appropriate training to move your foster dog toward being a well-behaved inside companion. Red Barn Rescue has access to a dog trainer who is willing to help you be successful!

Tell Us About Your Foster Dog

Communicate with the director and other volunteers regarding the dog's temperament and activity needs to ensure a good match between the dog and their adoptive family.

Photos Please

Taking photos and videos that we can use on Petfinder and social media is important too!

Finding the Right Fit

Be willing to talk to and meet with pre-screened potential adopters. (If you are not comfortable meeting them at your home, they can be met at the barn with another volunteer present.)
Qualifications for Fostering:
In order to ensure that your foster dog receives the care he or she needs, Red Barn Rescue asks that you meet the following criteria:
To foster for Red Barn, you must be at least 21 years old and have a basic knowledge of canine care and behavior. We are looking for fosters who understand that a shelter dog may need patience, guidance and time to settle in to your home and routine. They may have a health issue we don't know about yet. We may not know if they are housetrained. But all dogs are deserving of a chance and we will do our best to find which type of dogs will work best for you and your family.
You need to have a safe and secure space inside your home to ensure a good quality environment. (We can provide a crate if needed.)  We'll ask that you provide access to current veterinary records for all animals in your residence.
Fostering does require a commitment to time and effort to socialize, train and exercise your foster dog – as well as provide ongoing input to the rescue on any behavior changes or health issues. We will do all we can to make your fostering experience a success!